Wet and Dry Rot
Wet and dry rot is a type of fungi that attacks and deteriorates timber. The treatment is dependent upon each situation, however we strive to use environmental controls, such as isolation and ventilation, which ensure that the damp, unventilated conditions required by dry-rot do not occur. However, there may be some instances where removal of the affected timber and chemical fungicide treatments may be required.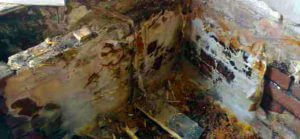 Dry-rot fungus is often thought of as a building cancer, rampaging through buildings and rapidly destroying any timber in its path. The fungus, which thrives in moist unventilated conditions, will penetrate brickwork to get to more timber and can cause widespread destruction of structural timbers, skirting boards, door frames, and wood flooring. It can occur in the areas of a property that are not often seen, such as floor voids, or behind timber paneling, so damage may be extensive before the attack is discovered.
Compared with dry rot, wet rot is hardly a problem! It is basically the timber decaying naturally in the presence of high levels of moisture. There is almost always a structural defect causing the problem, it may be that the wall adjacent to the timber is suffering from damp, or water collecting on the timber. Any structural problem must be tackled at the same time as the timber is treated otherwise the problem is likely to reoccur. The problem may just be damaged paint finish on the timber allowing the actual wood to absorb excessive moisture. Damage is normally limited to the timber although the original structural problem may also cause other areas to be affected by damp (such as plaster or just decorations).
Our surveyor will investigate fully the source of dry/wet rot within your property and explore the suitable method of treatment. All of the results and feedback will be provided in a full written report, along with recommendations and details of the cost.